In this tutorial we will explore some free blog and website options.
For FREE
Assuming that you are just starting out and want to have your website or blog. And let's say you don't want to invest any money. You want the free stuff. But you want the great stuff. So, in this tutorial we are going to cover the platforms that provide amazing service to create and host websites and blogs for FREE!
In this tutorial we are going to learn about the platforms which you may have already heard of. So, I am going to list the important points and let you decide which one is best for your need.
Let's get started...
WordPress

WordPress is one of the leader when it comes to blog and website. They provide FREE blog and website, of course with some limitations. But it gets the job done when you are just getting started.
Click here to checkout their pricing for advance usage.
So, what are we getting in the FREE plan? Pretty much everything we need.
Free wordpress.com subdomain (Example: yusufshakeel.wordpress.com).
Hundreds of Free Themes to style our website.
Basic customization of selected theme template with pre-set color schemes, background designs, and font styles.
Sufficient storage (3GB at the time of writing this tutorial)
Community Support
Stats to know your audience
Subdomain: An Internet domain which is part of a primary domain.
Example: api.github.com is a subdomain of github.com website.
WordPress Dashboard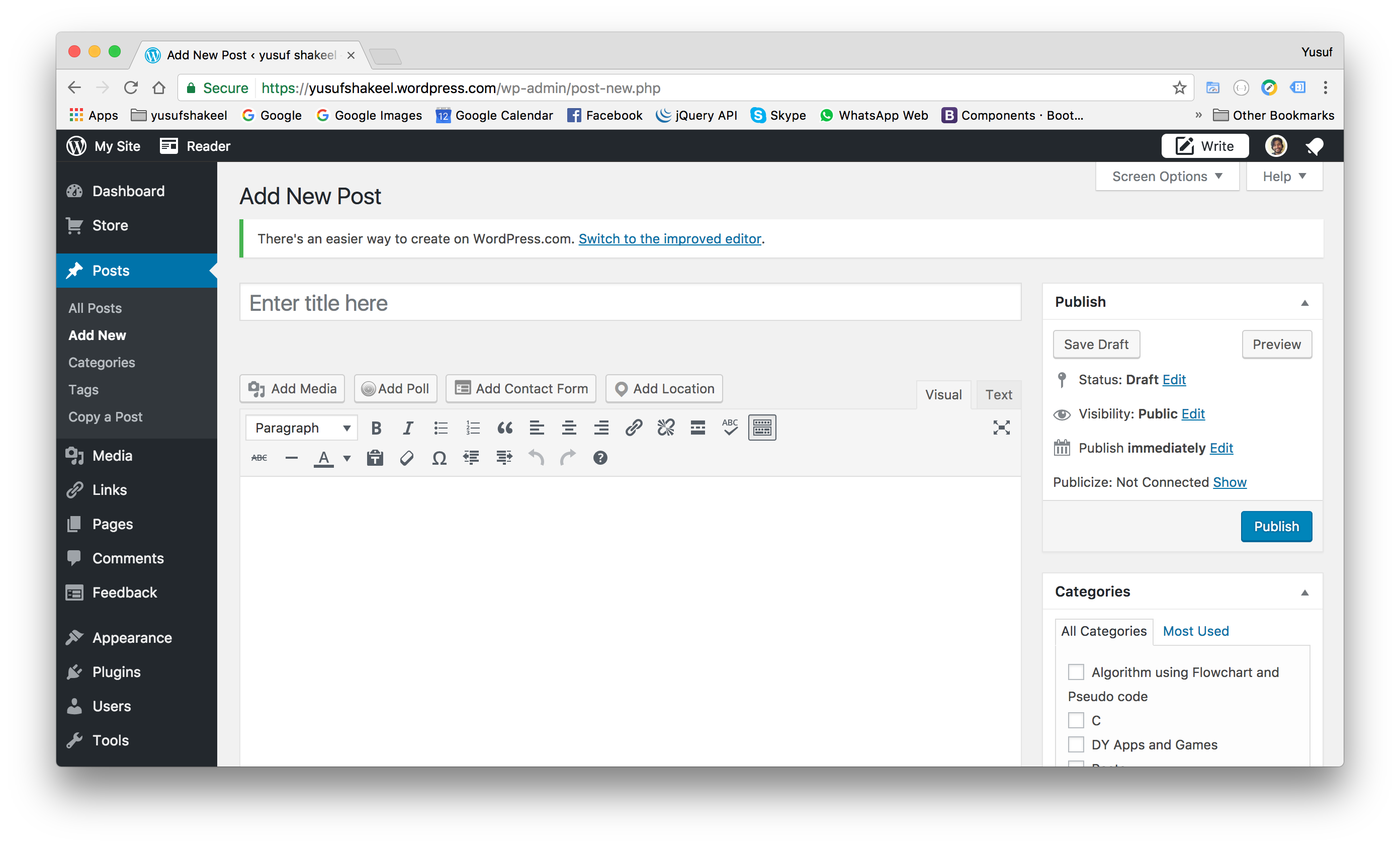 How to use it?
All you need is an email address. Go to their website WordPress.com and sign up for a FREE plan. That's it!
Why use WordPress?
WordPress is an ideal choice if you want to start a blogging or a personal website. They will take care of all the technical backend stuff so, you can devote your time on writing amazing content.
WordPress provides an amazing template customization without writing any line of code. All you have to do is login to your dashboard, pick a template and start customizing it as per your need. And there are hundreds of free templates that you can choose from.
It even allows visitors to leave their comments on your WordPress website.
You can easily embed external content on your blog and website. Example: YouTube video.
Limitations
There are limitations in the FREE plan of WordPress. First is the subdomain. You are not going to get your own custom domain like (dyclassroom.com) if you go with the FREE plan.
You get only 3GB storage. Which is very less if you are going to have lots of high quality images and videos on your website.
You do get some access to the code but not much so, you can't do too much code changes to fully customize the website as per your need. This is not a big deal if you are only concerned about the content and not the backend logics.
Remark
If you are looking for a quick and easy solution to launch your website then you must checkout WordPress.
Blogger

Blogspot a.k.a. blogger.com started back in 1999 and is one of the oldest FREE blogging website. It has some limitations but provides all the necessary tools to get started.
Blogger was bought by Google in 2003.
Again, if you are just starting out and your priority is to start blogging then this one is for you.
Things we get from Blogger.
Free blogspot.com subdomain (Example: yusufshakeelblog.blogspot.in)
Easy-to-use templates all with flexible layouts and hundreds of background images to choose from.
You can even integrate Google AdSense and get paid for your hard work.
Blogger's built-in analytics to know your audience.
Blogger Dashboard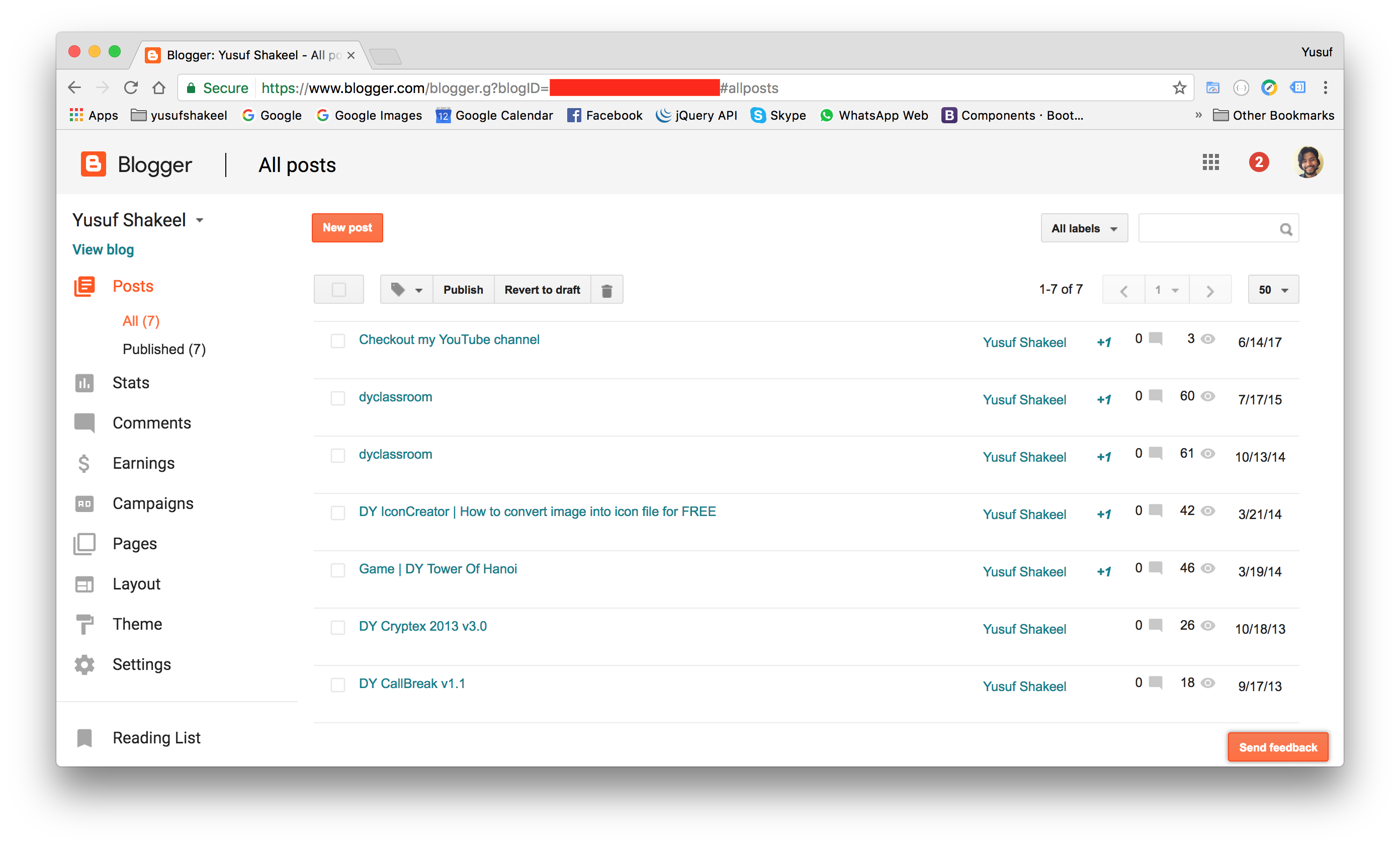 How to use it?
All you need is a Gmail account. Go to their website blogger.com and get started. That's it!
Why use Blogger?
If you only want to write your blogging content then this one is a good option.
Of course, there is a debate on what to use when it comes to blogging. We have WordPress and Blogger. I have used both the platforms. Though WordPress is considered more but Blogger has its own merits and user base. So, you can definitely give it a try when you are starting out.
Limitations
It's a free platform so you will not get everything and granular control over your blog.
It is one of the most popular platform but WordPress is considered more now a days.
Remark
If you are looking for a simple blogging solution then you can try Blogger.
Recap
If this is your first time creating a blog or website then do check out the above platforms. You will definitely get to learn how things work. And when you plan to upgrade then the experience you gain from these platforms will help you a lot.
Alright then, have fun creating new content and I wish you all the best. See you in the next tutorial.